What Pilates Place Offers:
Feel Better, Move Better, Live Better:
Who we are and how we work
Experience, Expertise, and a Welcome Environment
About us
Hi, I'm Greg!
I am PMA®Certified Pilates Teacher and Master Teacher Trainer through Pilates Sports Center.
As the owner, I wanted a studio where people of all shapes and sizes would feel great about their workout experience. Whether you are a beginner, athlete, or weekend warrior, we have classes that fit your lifestyle.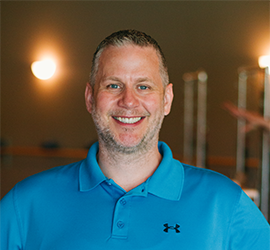 Testimonials
What our clients say
---
Love ❤️ this place & Greg is an Awesome coach
- Shawna Johnson
---
I ❤️ Greg's fun teaching style. He makes you laugh but still pushes you to that next level. I'm already seeing and feeling awesome improvements. This is a great studio full of friendly people. I highly recommend joining.
- Gigi Bays
---
What a great Pilates Studio! Greg is a wonderful instructor!
- Lynda Haworth
Get in Touch!
Have a question? Need help finding us? Just want to chat?